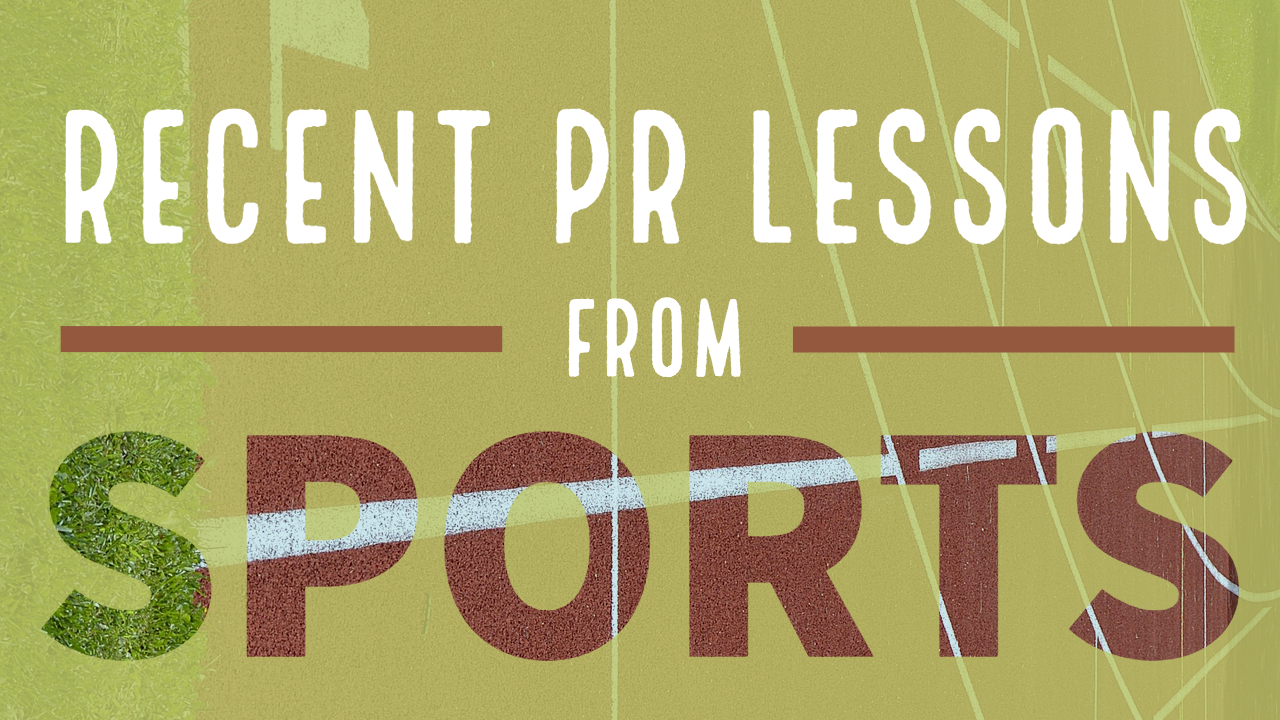 Sports can teach us all a great deal. From how to handle adversity to the importance of practicing your craft, athletics teach lessons that can be applied to so many areas of our lives. As a communications professional who has worked in and around the sports world for years, I'm acutely aware of the PR lessons to be learned from things like post-game interviews that go awry (lookin' at you Saban), the way teams handle crises and more. Let's take a look at three things we've learned from the sports world as of late when it comes to PR.
Interview prep is a must (even for the vets!)
If you are a college football fan, you likely know what ensued after Alabama's first game of the season. To put it simply, Nick Saban got sassy. In his post-game interview, ESPN's Maria Taylor asked what he learned about his two quarterbacks in game one. Saban, who at the time of writing this is avoiding selecting a QB1 like the plague, went bananas.
"I think both guys can help our team, all right? So why do you continually try to get me to say something that doesn't respect one of 'em? I'm not going to, so quit asking."
I can only imagine the look of horror on Alabama Football's sports information director's face as Saban let out this rant on live TV. So, what can we learn from this? Interview prep is necessary, even for those who have been interviewed hundreds of times. Did Saban's SID provide him with talking points regarding the quarterback controversy? Most likely. But, was an in-depth interview prep session held to talk through potential questions that could be asked about Jalen Hurts and Tua Tagovailoa?
No matter the industry, it's important to be intentional when it comes to interview prep, focusing especially on hot-button, emotionally-charged questions like the one Maria Taylor posed.
Before the college football season kicked off, Ohio State University was thrust into the spotlight. OSU football coach Urban Meyer was accused of failing to report domestic violence claims against one of his long-time assistant coaches.
During Big Ten Media Days on July 24, Meyer was asked if he knew anything about the domestic violence incident that took place in 2015. He stated that when he received a text July 23, it was the first time he had heard of the issue. Nine days later, Meyer released a statement that said he did report the domestic violence incident in 2015, which means he did know about it prior to receiving a text message July 23. In his statement, he admits lying to the media and attempts to justify doing so.
"Unfortunately, at Big Ten Media Days on July 24th, I failed on many of these fronts. My intention was not to say anything inaccurate or misleading. However, I was not adequately prepared to discuss these sensitive personnel issues with the media, and I apologize for the way I handled those questions."
There are even more important lessons than PR that we can learn from this scandal, but that is what we will stick to for now. In a crisis situation like this one, Meyer should have been prepped (and prepped some more) for questions regarding the accusations. To say he was not adequately prepared is mindblowing. The news broke on July 23, and Ohio State was set to be featured at Media Days on July 24, so that is plenty of time to be proactive by crafting a statement and develop talking points for the questions that were sure to come the following day.
Those at the forefront of crises must be more than well-equipped to answer questions from the media on the matter. Arm subjects with talking points, mock interview sessions, body language reminders and more before they step up to the podium.
Social media training is crucial
On a much lighter note, let's tackle social media. While social media presents the unique opportunity for athletes and coaches to share their personalities and interests outside of sports, it can also stir up trouble if not used correctly.
"If athletics are the front porch of major universities, social media is the front lawn. Keep it clean." Chris Yandle, University of Miami Communications
From avoiding the creation of burner accounts to combat critics (AHEM, Kevin Durant and Bryan Colangelo) to ensuring everyone knows sharing photos of a wild night out might not be the best idea, social media training is essential for players and coaches alike.
Nick Saban, if you're reading this, we can help you! All kidding aside, if you're an athlete preparing to face the media, we can provide the training you need to answer questions eloquently and with your best interest at the forefront. Contact us at insight@obsidianpr.com to learn more about sports media training opportunities!