Carlee Smith
Even though I grew up across the bridge in Arkansas, I'm as quick to claim Memphis as my own as I am to claim Marion or West Memphis. I'm sure some die-hard Memphians may cringe at that. As I approach my year anniversary of making the move across the Mighty Mississippi, and as we near Memphis' bicentennial, I'd like to tell you about my Memphis love affair.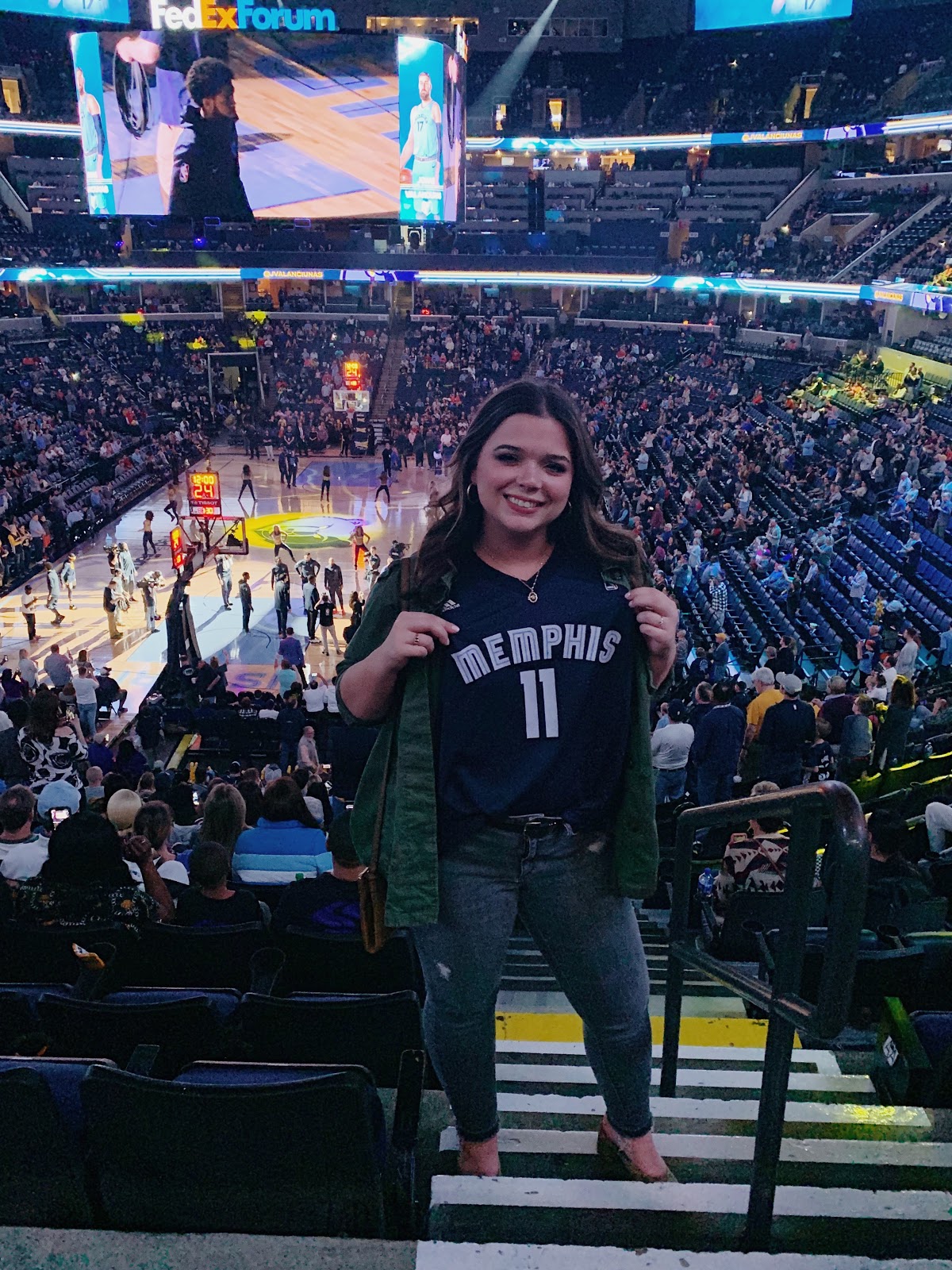 I'm not sure how or when it happened exactly, but it's obvious that I fell hard for the Bluff City. Growing up in close proximity almost put me at a disadvantage – I took the 901 for granted. Memphis became a Saturday shopping trip or a Sunday movie to me for a while. It wasn't until I went to college that I realized how truly special this city is and how much I loved it because I started to miss it.
I missed the grit of the streets. I missed the grind, devotion and determination of the people. I missed the little things that make Memphis…Memphis. The Bluff City is more than Graceland, barbecue, Beale Street and Penny Hardaway combined. Memphis has a soul, bigger than soul music, that runs through the veins of the city and the people that call it home. It's hard to explain to an outsider but apparent to anyone who's witnessed it. Once you understand it, you seldom want to let it go. And, if you do, you somehow end up finding your way back.
So, if you ever find yourself in the area, I'd be more than happy to show you around. Or so would the person you run into as you're wandering down Main Street. Ask a local for their favorite restaurant or bar that hasn't made a list of "Best Things to Do in Memphis" (even though one or two of our suggestions may overlap). Head to the FedExForum for a Tigers or Grizzlies game and bond with the person sitting next to you as you both cheer as Mike Conley makes a three-pointer or when Jaren Jackson Jr. dunks the ball. Shop around in the world's largest Bass Pro Shop that's also conveniently located in a pyramid. Visit the National Civil Rights Museum or the Pink Palace or the Brooks Museum or the Dixon Gallery and Gardens. Stand on the line between Tennessee and Arkansas above the Mississippi River on the Big River Crossing. Try Pancho's cheese dip or barbecue nachos, have a drink in a haunted bar (or two), jam out at Beale Street Music Festival or Mempho Music Festival, spend the day at one of the largest urban parks in the country, catch a soccer game in a baseball stadium, check out more than 40 tenants inside a remodeled 650,000-square-foot Sears & Roebuck distribution warehouse. And that's doesn't even begin to cover it.
Memphis isn't for everyone, but it is for anyone, and it's definitely for me.
__________
Kelli Brignac
Before we go any further, let's talk about the big ol' elephant in the room. We can call him Jeff ("You know, Jeff! From the Wiggles!" as my daughter would say). I don't live in Memphis. So how can I write a Memphis love story? In short, MY love story – my husband, my kids, a career I love – wouldn't be what it is without Memphis. I like to think of Memphis as the place where it all started.
The backstory
In 2009, my then-boyfriend and I had just started dating. We graduated from Louisiana State University, but the economy was weak, to say the least. He accepted a job in Chicago. I took one in Baton Rouge. Like most of our friends at the time, we began a long-distance relationship. Two and a half years later, I was a pro at airports, and date night meant turning on the same movie while we Skyped, but I was over the long-distance thing. He got the opportunity to move to Memphis, and I agreed to "compromise." I knew of Memphis, had some cousins there and had visited. It was more palatable to me than Chicago, so I said I'd move.
If you're bored in Memphis, you're doing it wrong.
In 2011, I did what I never thought I would. I moved for a guy. To convince myself and everyone else that was NOT why I moved, I jumped head on into getting to know my new city. And, y'all, Memphis is awesome. I immersed myself in our client work (check them out, our clients do amazing things!). I went to all the events and created my own fun, too. I met new friends at the Cooper-Young Beer Fest and the Snuggie Pub Crawl to benefit Le Bonheur. I hosted my college roommates for a bachelorette party and other friends for a road trip to the LSU-Ole Miss football game. I volunteered as a cheerleading coach for Memphis Athletic Ministries. I took a cooking class at Church Health. We became regulars at the Blind Bear, Aldo's and other spots along South Main, and we spent countless days and nights on various apartment rooftops with neighbors, most of whom were also young professional Memphis transplants and who have become lifelong friends who I still stay with when I'm in town. I'm not going to say my Memphis is for everyone, but, to me, that's Memphis' appeal – it can be a lot of things to a lot of people.
Memphis gave me life.
Although my weekends look much different than they used to, Memphis is part of my story. Fun fact: My husband and I actually met in Tennessee. We were in college and attending an LSU football game in Knoxville. It took us a few years to actually start dating, but his favorite joke is that it's fitting we got engaged and married while living in the state where he once shot me down (which is a lie, he did not shoot me down!). Our first little apartment together was on South Main. We now live in Louisiana, we have two daughters and two pets, and I have a career that still brings me back to Memphis several times a year.
Memphis is for weekend warriors. Memphis is for families. Memphis is for great dates, epic nights, relaxing afternoons and once-in-a-lifetime experiences. Memphis is for everyone, and that's why I love it.
______
Jenna Taylor
Being born and raised in a small town where everyone knows everyone and where times are slow to change, I always knew I wanted to move to the city. Every visit to Memphis growing up was new and exciting. I remember walking with my parents through the bustling streets and seeing all the sights one doesn't normally get to see in a small Mississippi town: large buildings and lights, walkable shops and stores, and so many different activities happening all around us. I would tell my mom, "I'm going to live here one day."
Memphis has almost everything larger cities have to offer. Like New York or Seattle, we have boroughs – Downtown, Midtown and East Memphis – and each part of the city offers up something different. Memphis is unique because it has a "big-city vibe" and also has a way of feeling like home to anyone. The city isn't a rat race, although it has a faster pace than other Southern towns. Memphis is a place rich in history and rooted in soul, and that has shaped the city into something genuine and compelling.
After calling Memphis my home for half a year, I'm learning more about the city and why every Memphian is proud to live here. It's an incredible thing, really. When everyone takes pride in their city, teams, people and businesses, the city flourishes. And the results are infectious. Memphis was named one of the best destinations to travel to in 2019. With so many awesome events happening all the time and new businesses and trends popping up all over the city, it's definitely easy to fall in love with Memphis.
Memphis so effortlessly becomes home for anyone who moves here. Because of its unique disposition, it can offer a simple transition for those coming from a small Southern town or a larger city. Not only do we offer Southern hospitality but a rich, diverse culture that is deeply intertwined into the city streets, businesses and people.
My love for Memphis is most apparent in my career. Obsidian is a firm full of incredible women from different backgrounds and cities coming together with a shared love of our new home, Memphis, and all of our clients that make our city great.