Hopefully, you caught the "Wedding Crashers" reference there. 
Our firm helps many of our clients plan for tradeshows every year. If your organization is exhibiting at any tradeshows this year, don't forget what a great opportunity these events can be for media coverage. To make sure you are getting the most out of this experience, create a detailed plan with designated responsibilities focused on pre-show, during-show and post-show activities as I have done below.
Pre-show
First, understand the show's media landscape by researching what media outlets will be in attendance. Sometimes, the show's coordinators will release a media list, other times they won't. If the media list is not being shared, research who covered the show in the past through Google and on Twitter (reporters may tweet about tradeshows in advance using the show's designated hashtag).
Once your media list is solidified, reach out to reporters letting them know that your organization is exhibiting and invite them to stop by your booth (include the booth number). Always have a show-specific press release with something newsworthy to discuss. Each show is different, but many will distribute releases to attending media or upload to an online pressroom.
Lastly, make sure you have an updated press kit to submit to the show's media room in both electronic and paper form. Each show has its own guidelines, so refer to the pressroom section of the tradeshow website to ensure you have all the details.
During the show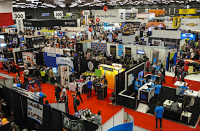 At the beginning of the show, verify that your approved press kit is in media room and replenish the supply throughout the show. Remember, many media rooms have rules that don't allow you to hang out there. So, don't get banned for stalking the media room!
However, do make a point to reach out to reporters again via email to remind them of your organization's booth number and invite them to drop by for a visit or demonstration. You can always reach out to them via Twitter, too. That shouldn't be hard because you should be live-tweeting the event anyway. #tweetforexposure
Even more important, talk to as many contacts present at the shows as possible because building relationships is much easier in person than over email.
Post-show
Follow up. Follow up. Follow up. Make sure to reach out to reporters you met in person and provide answers to questions they had during the show or to say thank you for stopping by the booth. Remember not to neglect contacting those who you did not connect with in person. Recaps of the show or updates, like awards the company may have won, make for a good final opportunity to reach out.
While tradeshows are a great way to gain sales prospects, the chance to garner media coverage is just as important. The key is planning ahead! Identifying your key messages and keeping contacts on alert for interview opportunities are necessary to make the most of trade show media opportunities. The relationships you begin and reinforce at the shows will grow over time with continued communication.